Part of the Zumtobel Group of companies, Thorn Lighting took home Best Project – Commercial at Voltimum's Smart Solutions Awards 2018, held at UK Construction Week.

Brand new Danube Arena gets state-of-the-art LED lighting from Thorn and Zumtobel – making it one of the first LED-lit sports venue in Hungary
This robust and high-performance LED street lantern brings comfort and safety to any road or street.

Our most versatile outdoor solution yet, Flow integrates seamlessly into any urban setting, allowing designers to create a unified look.

Designed for the toughest transport and industrial applications, Feroz effortlessly withstands heat, dust, moisture, impact and more.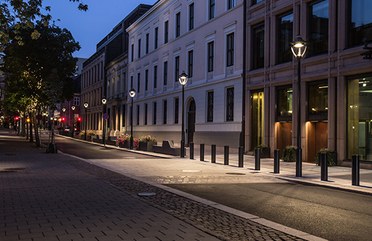 Thorn refurbishes City of Oslo lighting with efficient LEDs and smart controls.